50th Year Reunion
The AHS CLASS OF '64 FIFTIETH REUNION!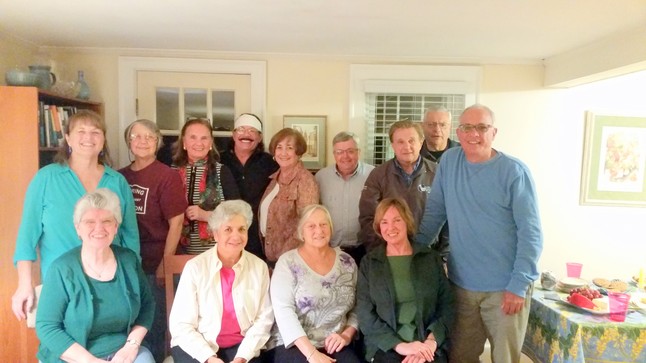 Committee Meeting 9/25/2014
(names at bottom of the page)
Date: Saturday October 11th, 2014 (Columbus Weekend, so make plans soon!)
Time: 6:30 PM Cocktail Reception in the Board Room of Arlington Town Hall
6:30-11 PM Dinner and Dancing in Main Hall of Town Hall
Fee:

$70 per person if paid by check
$73 if paid by Credit Card (BELOW)
There will be a Cash Bar.
Other Activities:
Tour of AHS Friday 3-4 pm

Sunday Brunch


10/12/14 11AM-1PM
ARTISTRY ON THE GREEN RESTAURANT
THE INN AT HASTINGS PARK
2027 MASSACHUSETTS AVENUE
LEXINGTON MA 02421
1-781-301-6660
Email Joan Clark Stack if you are coming www.innathastingspark.com
Cost: $25.00 per person, plus 20% gratuity and 7% tax

Deadline:

We request your registration and payment by

SEPTEMBER 20TH

in order to make adequate arrangements for the reunion.
If paying by check, make sure the number of people attending and the name(s) of all people attending is filled in below. Then send your check payable to: '64 REUNION COMMITTEE and mail it to:
Tom Falwell
21 Greenside Lane
Acton, MA 01720
OR
If paying by credit card, Make sure to:
Fill in "Reservation paid by Credit Card" (quantity);
Fill in the "The number of people attending";
Fill in the "The names of people attending including yourself"; and,
Click Purchase and fill in the Credit Card information and finalize;
FOR QUESTIONS about the REUNION, contact either:
Jane (McCall) Barry at 978-335-1573 ( morgnbarry@gmail.com )
OR Pat (Shea) Scully at 617-803-9294 ( pscully50@gmail.com )
Present: Pat Shea Scully, Evelyn Smith DeMille, Jane McCall Barry, Libby Distefano, Pat Ferriani Falwell, Tom Falwell, Carl DeMatteo, Richard DeCaprio, Henry Boroyan, Bonnie Lewis Hayner, Charlotte Sullivan Shepard, Janet Bellizia O'Connell, Judy Bellizia Grande
Unable to Attend: Janet Elias-Saulsberry, Dennis Adams, Paige Simpson Adams, Jim Macklin, Robert Shepard, Walter Smith, Maureen Guinane Crewe, Joan Clarke Stack, Christine Covell Cass, Karen Hauser Mahoney, Edmund Mahoney
50th Reunion (Saturday October 11 2014)
$73 per person by credit card; $70 by check
Sorry, you must be logged in to buy tickets.
If you would like to order please
log in here
.
| NAME OF ITEM | QTY | COST |
| --- | --- | --- |
| Reservation paid by Credit Card | | $73.00 |
| Reservation paid by Check | | $70.00 |
AHS Tour (Friday October 10 2014)
Sunday Brunch (Sunday October 12 2014)
$25 per person (plus tax, etc.) payable to Joan Clark Stack